Lavanta Coffee Fully Automatic Espresso Machine Bold 1006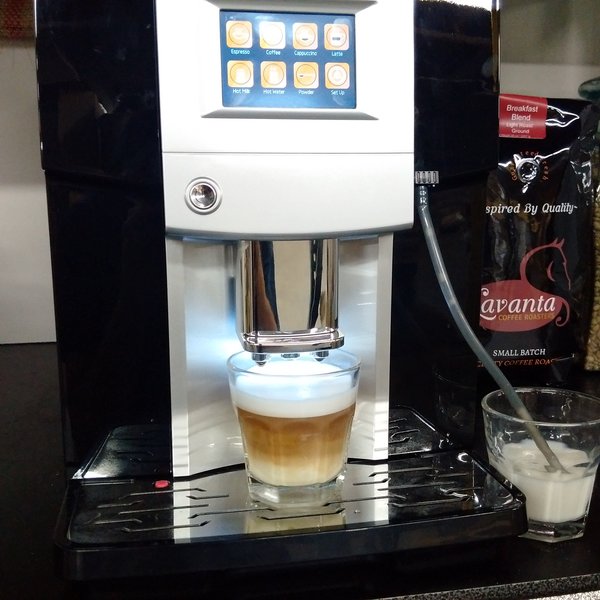 Lavanta Coffee Fully Automatic Espresso Machine Bold 1006
Lavanta Coffee Fully Automatic Espresso Machine
Brand New Model Bold 1006
The new, best in class fully automatic coffee machine yields a cup of coffee like no other. It's ingenious operating concept couldn't be more self explanatory; simply power up, select your beverage, sit back and savour the taste. Without moving the cup, you can brew coffee, espresso, cappuccino, lattes, hot water, hot milk, regular, decaf & flavored beverages. Look at the enclosed pictures, this Espresso Machine does it all automatically at the push of a button.
Suggested retail price is $1895.99
We guarantee you will love this machine, we offer a 30 day money back guarantee and 12 month unlimited warranty.
Need a payment plan, give us a call and we will see what we can put together. (862) 881 4683 M-F 9-5est.
Touch Screen, Cup Warmers, Automatic Milk Frother, Adjust water & milk (where applicable) quantity for each beverage
Large whole bean storage compartment with aroma preservation cover, with grind settings from course to fine. Height adjustable coffee spout with white cup illumination.
Separate ground coffee scoop to allow you try a different coffee then what is in the whole bean storage bin
Large water tank to brew an average of 15 cups
Automatic self rinse cycle
12 cup grind disposal bin
10amp, 120 volts, 1200 watts
Reviews