Colombia Supremo Santa Barbara Estate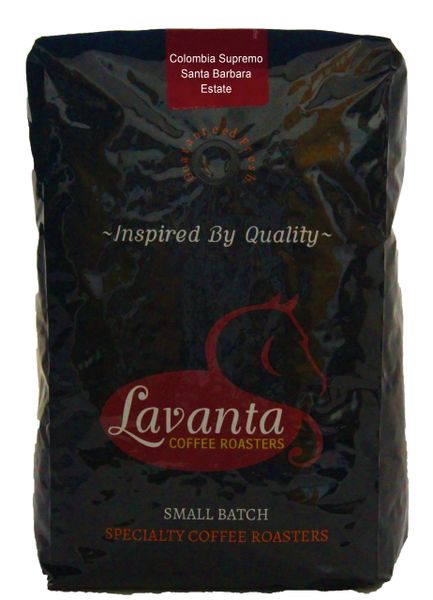 Colombia Supremo Santa Barbara Estate
16 ounce Quantity
Cup Characteristics: This Colombia Santa Barbara Estate Supremo Arabica coffee is a true gem of Colombia. The Sup Tremo is silky,full body, bright acidity, well balanced, excellent flavor and the type of coffee you can enjoy at any time of the day. The aroma is beautiful.
This Santa Barbara Estate Supremo is considered the highest grade of coffee in Colombia. The Popayan Region is the Southwestern part of the country near the Pacific Ocean and is where this particular coffee is grown. The Santa Barbara Supremo are grown at elevations of up to 6,000 feet above sea level on the Sierra Nevada Mountain Slopes.
Colombia was introduced to coffee in 1808, by a clergyman who originated from the French Antilles, and Venezuela. Today, this great country is the third biggest producer in the world with an annual production of 12 million 132-pound bags. You can see how important coffee is to the nation's economy as all imported cars have to get sprayed so they do not inadvertently introduce any new potential crop diseases that may affect their coffee production. Colombia is also the largest exporter of washed Arabica beans. The climate in Colombia is ideal for growing coffee without any risk of frost, which may harm the crops. Coffee is either graded as Supremo or Excelso; the difference between the two being that the Supremo is a larger bean. Size of the beans do play an important role in the flavor profile of the Colombia's.
Reviews