Lavanta Coffee Roaster's K-Cups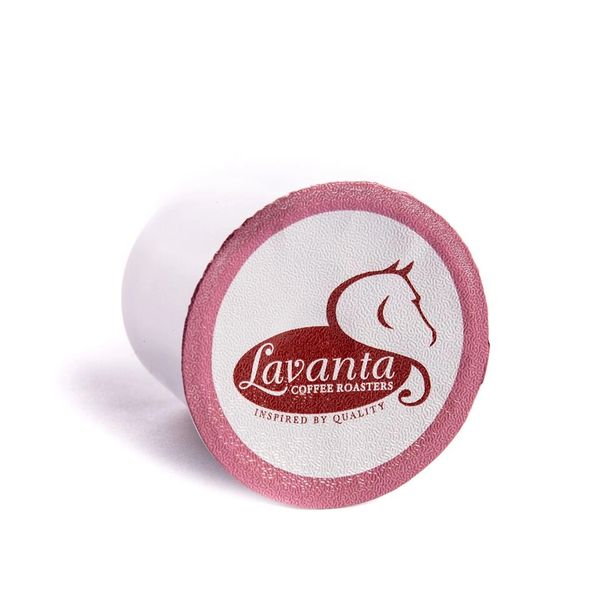 Lavanta Coffee Roaster's K-Cups
K-Cups are here!!! All cups are freshly roasted and packaged. They are Keurig & Keurig 2.0 tested and approved! See below for the various options!
The Bold Power Pack: This incredible pack is BOLD & STRONG! Should not be taken lightly and great for that morning KICK! This variety pack comes with the following coffees: Jet Fuel Blend in a medium roast, Sumatra Gayo Mountain in a Medium roast, 457 Horse Power Blend in a dark roast, Espresso Blend in a medium roast, and Sulawesi Toraja White Eagle in a medium roast. 

The Gourmet Variety Pack: This incredible gourmet variety pack is a great go-to pack that has everything you need to start your day! This flavorful pack includes the following coffees all at a medium roast: The World Famous Mocha Java Blend, Our Signature Black Stallion Blend, Our Popular Breakfast Blend, The Classic Costa Rica Tarrazu, and Favorite Colombia Supremo.

Sumatra- Dark Roast : Cup Characteristics: This Sumatra Gayo Mountain offers an earthy, mouth-filling coffee with pronounced aromatics of exotic notes This coffee is erratic but sturdy, pronounced but not an overbearing body. Low acidity. 

Ethiopia- Medium Roast: Cup Characteristics: This coffee is known for its bright and low acidic properties. It has a clean taste which intensifies the palate. This coffee has an array of floral notes, luscious blueberry, and distinct citrus characteristics with a wonderful bright complexity. 

457 Horse Power Blend- Dark Roast: Cup Characteristics: Blended with Indonesian and South American Beans, this powerful blend is earthy with a big bold body, low acidity, strong flavor and a powerful aroma. 

Jet Fuel Blend- Medium Roast  Highly Caffeinated! Gives you that EXTRA BOOST to start your day!Earthy, Very Robust, High Caffeinated, Heavy Bodied The strongest blend that packs the highest caffeine content, the Jet Fuel Blend is an Indonesian-based, heavy bodied coffee carrying an earthy cup with a very robust wake up call. We derived the Jet Fuel Blend due to the demand for the early riser who doesn't have time to wait for the body to wake up. Don't take the Jet Fuel Blend lightly, this blend is a refreshing slap in the face.

Espresso Blend- Medium Roast- This powerful blend Sweet, earthy, low acidity, and an assertive body.
This special Espresso blend is a combination of a variety of coffees that we put together to offer a heavy bodied, low acidity cup of coffee. 

Sulwawesi Toraja White Eagle- Medium Roast - This Arabica Sulawesi Toraja White Eagle coffee is from the Island of Sulawesi, Indonesia and cups as an Earthy, mouth-filling, beautiful coffee with pronounced aromatics of tobacco and exotic earth notes. Sturdy, pronounced but not overbearing body. Extraordinarily smooth with big body, low acidity and balanced well.

Mocha Java Blend- Medium Roast-  Probably the most popular blend in the world, the Mocha Java Blend has proven itself for many years.  Recommend for only true coffee lovers, this Mocha Java blend is a very full bodied, rich chocolaty and complex coffee. 

Black Stallion Blend- Medium Roast - Full bodied with lots of fruit and citrus notes, offers a slight acidity in a beautifully balanced cup. This heavily weighted African blend adds a touch of South American coffee yielding a beautiful coffee, which offers bold flavorful characteristics, sweetness, and full body.

Costa Rica Tarrazu - Medium Roast - This Costa Rica Tarrazu carries a light, clean flavor with an incredible aroma. This wonderful Costa Rica Tarrazu Arabica Coffee is a delightfully smooth coffee. It offers a fruity aroma with subtle chocolate notes, a hint of citrus that brightens the cup and has a medium-high acidity. This coffee is a full-bodied cup with a light and bright finish.

Colombia Supremo- Medium Roast - This Colombia Santa Barbara Estate Supremo Arabica coffee is a true gem of Colombia. The Sup Tremo is silky,full body, bright acidity, well balanced, excellent flavor and the type of coffee you can enjoy at any time of the day. The aroma is beautiful.
Decaf Sumatra - Medium Roast- This Arabica Sumatra Decaf features more crema and body, adding slight smokiness, rich hints of dark chocolate and nutty flavors with a hint of herbal notes. This is a full bodied and low acidity coffee.
Reviews