Sulawesi Toraja "White Eagle"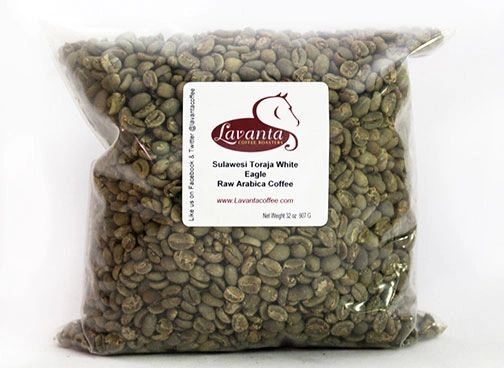 Sulawesi Toraja "White Eagle"
For orders above 20 pounds, please call us for additional savings
Recommended Roast Profiles: Medium to Dark. Also great for an Espresso Roast
16 Ounce Quantity
Cup Characteristics: This Arabica Sulawesi Toraja White Eagle coffee is from the Island of Sulawesi, Indonesia and cups as an Earthy, mouth-filling, beautiful coffee with pronounced aromatics of tobacco and exotic earth notes. Sturdy, pronounced but not overbearing body. Extraordinarily smooth with big body, low acidity and balanced well.
This Sulawesi Toraja "White Eagle" Semi Washed Grade 1 coffee is the extremely rare coffee of the island of Sulawesi, Indonesia.
In one of the most remote coffee growing areas anywhere in the world, far in the interior of Toraja, the most exclusive of all Toraja coffees "WHITE EAGLE" is grown.
The coffee is grown by the oldest and original Toraja trees which can only be found here and in some remote and original areas in Ethiopia. These original Typica trees are small, produce their first coffee only after 5 years in the ground and their yield is very low at less than 150 kilos per Ha. Many of these trees are original and date back more than 250 years and therefore well before the Dutch landed on the island.
The coffee trees are fully shaded, not by shade trees, but by virgin jungle. The "WHITE EAGLE" coffee is as sustainable as it can get! The beans are relatively small but have a unique flavor not found in any other Toraja coffee which is derived from newer variety plantings such as Linie-S and a new variety of Berg enDaal (Typica).
The area is so remote without any possible dirt roads that it takes as long as 4 days on horseback to bring the coffee down from the mountain from where the coffee is transferred by motorcycles and small pickup trucks for further transportation to Makassar.
Upon arrival at our facilities in Makassar the "WHITE EAGLE" is kept completely separate from all other coffees as the Crown Jewel of all Toraja Arabicas. Only 300 to 600 bags can be produced each crop year of this truly superb and outstanding coffee.
The island of Sulawesi is unique within the Indonesian Archipello of over 17,000 islands. It has over 200 indigenous bird species and countless indigenous flora and fauna. In addition Toraja has a unique culture with many different tribes and customs. It is a favorite spot for National Geographic as well as Eco tourism.
Many coffee buyers from all over the world are stunned by its exquisite beauty and coffee culture in full harmony with nature. Once high on mountain slopes, one can admire the terraced rice patios up to 6,000 ft high in between coffee trees and virgin jungle all the way down the valley to 1,000 ft. In our opinion this is the one of the most beautiful coffee growing areas one can find anywhere in the world.
We hope you will give this extremely rare and exquisite "WHITE EAGLE" coffee a serious trial
Reviews